Tea Bag Free Zone
We are a speciality tea shop.  As such our tea room is a tea bag free zone!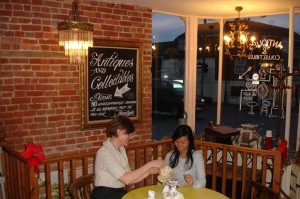 We only serve fine loose-leaf and speciality teas from around the world.  As well as the usual favourites we also stock petal teas.  There's Rose Bud famed for its complexion-improving properties or Chrysanthemum Flower tea famed for its disease-fighting qualities.
Micro-Roastery Espresso Coffee
We also serve fantastic espresso coffee.  We freshly grind coffee beans from an independent highly rated micro-roastery.  Enjoy the perfect coffee in the beautiful Kent countryside.
Freshly Made Sandwiches & Snacks
We always stock a range of freshly handmade ciabattas, sandwiches & paninis.
Our menu is ever changing but always includes something for everybody (including vegetarians, fish eaters & children).
Handmade Cakes
Do you love freshly baked cakes?…We do!  That's why all our cakes are handmade.  Our menu is forever changing but one thing remains constant….great tasting handmade cakes.
Something that's always on the menu is our delicious homemade cream tea.  Try our moist, succulent scone with lashings of fresh clotted cream, butter & strawberry preserve.
Why not book an Afternoon Tea with us?
Regular Afternoon Tea £17.95 per person (children £8.50)
Gluten Free Afternoon Tea £19.95 per person
Sparkling Non-Alcoholic Afternoon Tea £18.95 per person
Afternoon Tea with Prossecco £21.95 per person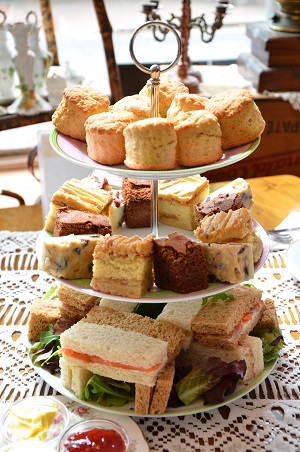 Treat yourself and your loved ones to a celebration of traditional English Pomp & Ceremony.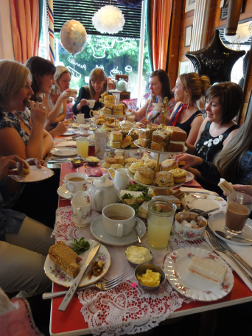 Chantal's husband arranged a surprise Afternoon Tea birthday party at Where Memories Meet.
For Afternoon Tea, we require a booking at least 48 hours in advance to prepare the necessary refinements.
Please phone us on 01622 299017 to make a booking.